Well, as you all know, posting is pretty sparse around these parts. It's few and far between that I get a chance to craft and then post about it on this blog. I love doing this craft blog, but life gets in the way too often. As most of you know, I'm a teacher. A special education teacher. And, if any of you know any teachers you know that some days you come home too exhausted for much of anything, let alone crafting and blogging.
To no fault but my own, I created this blog about crafts. People come here to see crafts, not read about my life. And, while I'm not always crafting, my life is always going on. Things are happening, and I want to be able to share that with my friends and family, but I don't think that this is necessarily the place to do that.
So, I started a new blog with my husband.
Life With The Luther's
. I'll be posting about whatever tickles our fancy. Life, crafts, our never-ending task to fix up our house, and whatever else comes along. I will leave this blog up though for now. Thanks to pinterest, it still receives over 250 hits a day, which is awesome! I may post things on here, but I wouldn't count on it.
So, thanks for sharing in my blogging with me. If you want to visit us on our new blog, we'd love to have you!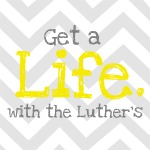 See you around!